Montrose Trailers are in it for the long haul!
Wherever your adventures take you, Montrose Trailers can help you with the road ahead. Here are the top three reasons why you should consider buying a Montrose Trailer:


Save Time and Money
Montrose trailers are a great investment for everyone looking to travel great distances. Having a custom enclosed aluminum trailer from Montrose Trailers eliminates the need to spend money on expensive rentals when you need to hit the road. Ditch expensive and hidden rental fees and get a personalized car hauler for wherever life takes you. There is no need to book or schedule a trip weeks in advance; simply load up your Montrose Trailer and hit the road with the confidence that your cargo will always be with you wherever you go.
Added Security For Your Special Cargo
Whether you're an avid car collector or someone who enjoys exploring the open road, your vehicle is an important and expensive asset. Having a Montrose Trailer adds an extra level of security and privacy when traveling. Our trailers are not only convenient, they also add the element of privacy to your expensive cargo.
Protection From The Outside Elements
All Montrose Trailers are built from robust corrosion resistant aluminum, which makes them the perfect place to store your vehicle. Whether it's snowing a storm outside or raining cats and dogs, you can rest easy knowing that your valuable cargo is safe and dry inside your Montrose Trailer.
Regardless of where you're headed, travel with confidence knowing that your precious cargo is safe and sound; knowing that it is in an extremely versatile car hauler you can trust. Our team of experts are always excited and ready to build a trailer that is in line with your dreams and goals. All of our trailers are made to order, built from the ground up using only top quality materials. Each and every trailer is constructed by hard-working Americans to ensure an end product that has superior quality and is second to none.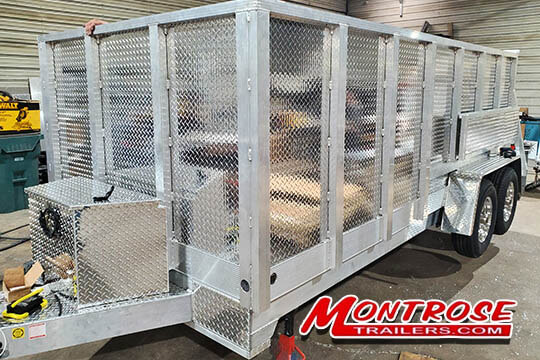 Comments or questions?
If you or someone you know is interested in learning more about getting their own custom trailer, reach out to us via email or our social media pages. You can also call Gary at (810) 639-7431 and get a free quote.

The Montrose Standard:
At Montrose Manufacturing Inc., we hold all of our products to a high standard. We work with each of our clients to make sure that the product we are offering is to their exact specifications and desires. Therefore, if you do not find a standard model from our product offerings, just ask, we can build it for you. In addition, we strive to offer each of our units at a competitive price, while making sure that each product is created with excellence in mind.
Call Gary at (810) 639-7431 for more information and a free quote for your custom trailer.
Follow us on Instagram

, 

Facebook
or
Twitter and let your voice be heard. We value your feedback and experiences, as it helps us create better products you will love.
‍Our History
‍Montrose Trailers: Founded in 1971, our history tells a story of the dedication and technical background that helped create our trailers. Montrose Trailers offers premium custom made to order trailers for customers with practically any hauling need.  Each trailer Montrose delivers is created with pride and client satisfaction in mind—we want each customer to enjoy their trailer from the second it is delivered and for years to come.